Shaping a World Beyond Work
At Kyosei, we don't just view work as a means to an end; we see it as the crucible in which we forge a better world.
Consider this: You'll spend roughly 90,000 hours of your life working. Those hours could either fuel a cycle of relentless competition and burnout or be a catalyst for meaningful change. The archaic definitions of success have failed us—yielding zero-sum games, emotional depletion, and an ecosystem of strife.
This isn't merely about altering the "how" of work—it's an urgent call to redefine the "why." For over twenty years, we've been collaborating with visionary leaders, game-changing entrepreneurs, and social impact-makers across the globe. Together, we're constructing a revolutionary framework for life, work, and enterprise—one that transcends profit to encompass self-renewal and global revitalization.
Join us in revolutionizing not just the way we work, but the world we share.
Leadership Training Consultant
Unlock Potential with Kyosei Consulting: Leaders in custom Leadership Training, Dynamic Team Building, Strategic Organizational Development, and Leadership Coaching. Experience amazing custom training and change management designed for visionary leadership and robust employee engagement. Our strategic facilitation and industry foresight pave the way for your business to not only adapt but excel. Thrive with our transformative keynotes and future-focused research. Kyosei Consulting — where leading businesses evolve.
Revolutionizing Work to Reimagine Our World
This revolutionary approach underscores that long-term success—be it in performance, results, or impact—demands an equal investment in well-being and fulfillment. Instead of viewing your team as expendable "resources" to be depleted, we advocate a "virtuous cycle" that amplifies human potential. This cycle not only renews individuals but also rejuvenates businesses and enriches our collective world.
To forge a world where everyone thrives, we focus on elevating your team's skills in five key areas: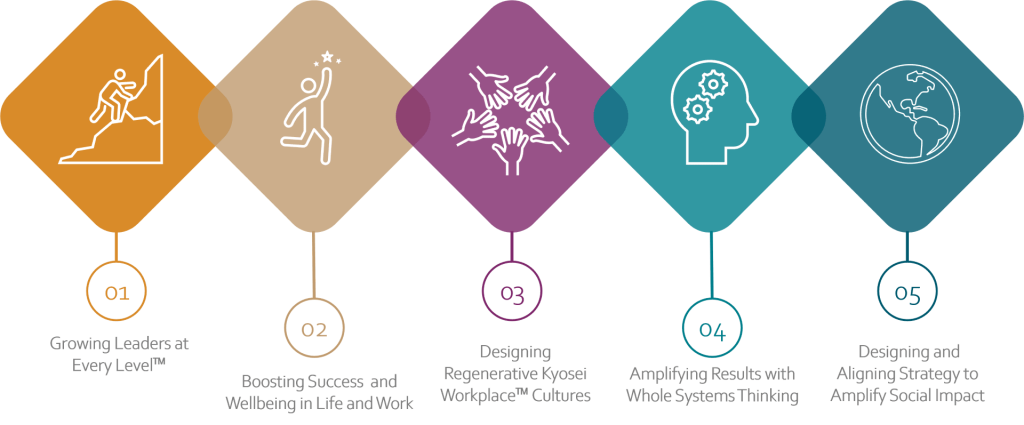 Cultivating Leaders Who Amplify Impact
To forge a world where everyone not just survives but thrives, we require more than leadership; we need transformative leaders—Kyosei™ leaders—at every strata of society.
These aren't just any leaders; they're visionaries who know the art of synergizing with their teams to supercharge performance, ignite fulfillment, and magnify impact. In organizations, communities, and even families, Kyosei™ leaders are the linchpin of a thriving future.
Elevate Well-being in Work
— and in Life!
Burnout is the new epidemic and signals that our current work models are broken. It's time to redefine success in ways that doesn't compromise well-being.
Enter our Life-Work Integrity® framework—a radical reimagining of the work-life dynamic where performance and well-being aren't mutually exclusive. Here, success, fulfillment, and well-being harmoniously coalesce, making compromise a thing of the past.
Unleash Next-Level Impact with Result of Note™ Whole Systems Thinking
The era of chasing productivity and profits at the cost of human well-being and planetary health is over. The question is, what's next?
Introducing Result of Note™ —our robust systems-thinking framework designed to amplify problem-solving prowess without sowing the seeds of future dilemmas. Transform challenges into opportunities while respecting both humanity and the Earth —and unlock next-level impact.
Forge an Unstoppable Kyosei Culture™
Gone are the days when culture was a mere afterthought. In a Kyosei Culture, performance, fulfillment, and impact aren't just buzzwords—they're the pillars of sustainable growth, results, and profitability.
Our KI-Q™ culture assessment doesn't just identify the starting point; it accelerates your journey toward a team equipped with the energy, resilience, and systems required to not only lead change but also construct a world where thriving is the status quo.
Insights & Tools for Leaders
Books
Discover new leadership books from the Kyosei team, including our latest release, "Wabi-Sabi Wisdom: Inspiration for An Authentic Life," (and stay tuned for more exciting releases coming later this year!).
Resources
New from Kyosei — free resources to enhance leadership and drive growth. Check back as we build out this new section of our website with tools, white papers, infographics, templates and more
Courses
Whether seeking training for groups, individuals or leaders - our flexible formats (including LMS, live streaming, gamified and in-person workshops) provide a world class experience second to none!
Kyosei is not just a company; we're a team of creative maestros with an unwavering commitment to crafting transformative learning experiences that resonate globally.
… And we'd love to help you.